Chiropractic
There are many ways to maintain a good posture and avoid the experience of back pain.
Pay attention to your standing and sitting posture throughout the day.
If you are sitting for long periods of time, stand up and move around every 30 minutes to an hour.
A rolled towel can be used to maintain the normal lumbar curve while sitting.
Doing physical activity regularly can help build strong abdominal and back muscles.
Aquatic exercises can help with your strength, posture, and balance.
Phones or books should be held at eye level.
Make sure your shoes are comfortable and supportive.
Consider placing a small pillow under your neck and a rolled towel at your lower back when you sleep.
Poor posture, traumatic injury, strain, or sprain can cause our muscles, ligaments, and tendons to have abnormal tension. This can cause pain, tenderness, and/or movement dysfunctions. Soft tissue therapies are a type of therapy where soft tissues, such as muscles, ligaments, and tendons are pressed and kneaded with the hand or a mechanical device. This can be performed by chiropractors, occupational therapists, physical therapists, or massage therapists. Soft tissue therapy can help relieve pain and inflammation, reduce stiffness and movement dysfunction, reduce spasm, and increase the range of motion of the injured area. Moreover, it can improve circulation by increasing the local blood flow. It can also assist with tissue healing, fix abnormal postures, and help avoid further injury. Overall, soft tissue therapy can help with your pain and musculoskeletal health.
The spine consists of spinal disks and vertebrae and similar to a jelly donut, the disk has a softer "jelly" center. When the "jelly" pushes out through a tear in the tougher exterior, it is known as a herniated disk. Disk degeneration can cause disk herniation in the lower back or in the neck. The water content in the disks decrease as we get older and the flexibility of it decreases. Therefore, a minor strain, twist, and improper lifting can easily lead to a tear or rupture in the disk.
The signs and symptoms that someone will experience includes pain, numbness, tingling, or muscle weakness due to the irritation on the nerves. Pain can be felt in the thigh and calf when the herniated disk is in the lower back. Pain can be felt in the shoulder and arm when the herniated disk is in the neck.
Excess body weight and duties performed on the job that put extra stress on your lower back can increase the risk of disk herniation. A few things that you can do to prevent a herniated disk includes lifting heavy objects properly, strengthening trunk muscles, and maintaining a healthy weight.
Lordosis is located in your neck and spine. Cervical lordosis is when there is an inward curve in the region of your neck. When there is an inward curve in your lower back, it is known as lumbar lordosis. It is more common for an individual to have lumbar lordosis than cervical lordosis. Obesity, osteoporosis, poor posture, spondylolisthesis, and kyphosis are a few causes of lordosis. Someone who does not have this condition would notice their ears are lined up over their hips, shoulders, and ankles.
Individuals who experience lordosis would have a noticeable curve that could be seen. In addition, they might experience discomfort, severe back pain and/or tense muscles around the curve. Lordosis could restrict their movements and create a space in between their neck or lower back and the floor when they are laying down.
Physical therapy can help with strengthening, and increase your flexibility and range of motion for your neck and spine. Exercising, stretching, using extra pillows when you go to sleep to support your spine, and wearing a neck immobilizer or thoracic spine brace are all possible treatment options for lordosis.
A healthy spine is made up of vertebrae that look like cylinders put on top of one another to form a column. Kyphosis is when the vertebrae in the upper back is more wedge shaped, which leads to an excessive, forward rounding of the back.  It can appear in infants or teens, but it is most commonly found in older women.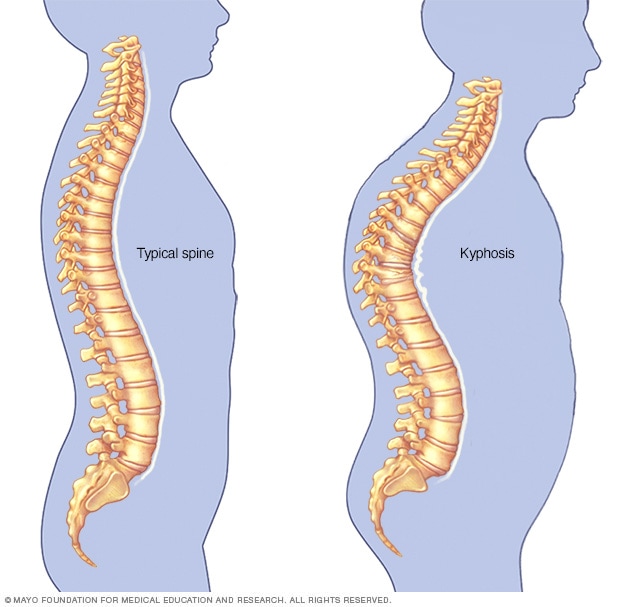 In addition to an abnormal curvature of the spine, someone who has mild kyphosis can experience back pain and stiffness. Fractures, disk degeneration, birth defects, osteoporosis can all lead to an abnormal vertebrae. Kyphosis is linked to weak back muscles and an individual can have difficulty walking, driving, and looking up. Pain can also be felt when the individual lies down and there can be problems with breathing and digestion if the situation is severe. Depending on the individual's age and the cause, the treatment can vary for each individual.
Educate on nature and course of LBP, provide reassurance, and advise on physical activity and self-management strategies. Based on patient preference and practitioner experience, we suggest:
Acute (0-3 months) Low Back Pain
Spinal Manipulative Therapy (SMT), other commonly used treatments or a combination of SMT and commonly used treatments to decrease pain and disability in the short term.      
Remark: Other commonly used treatments may include advice on posture and physical activity, and usual medical care when deemed beneficial.
Chronic ( > 3 months) Low Back Pain
Spinal Manipulative Therapy (SMT) over minimal intervention to decrease pain and disability in the short term.
Remark: Minimal intervention includes manually applied forces with diminished magnitude or 5-minute light massage.
Spinal Manipulative Therapy (SMT) or other treatments for short-term reduction in pain and disability.
Remark: Other treatments include extension exercises, advice plus exercise, myofascial therapy, or usual medical care when deemed beneficial. Pain relief is most effective within the first 6 months and functional improvement was most effective at 1 month.
Multimodal therapy with or without Spinal Manipulative Therapy (SMT) to decrease pain and disability.
Remark: Multimodal therapy with SMT treatment may also include exercise, myofascial therapy, advice, educational material, usual medical care when deemed beneficial. SMT (2 sessions per week for 4 weeks) plus standard medical therapy has shown better pain and functional outcomes than standard medical care alone. Pain and functional improvement was also shown at 3 and 12 months.
Chronic ( > 3 months) Back-Related Leg Pain (Sciatica or Radicular Low Back Pain)
Spinal Manipulative Therapy (SMT) plus home exercise and advice to reduce back pain and disability.
Remark: Reduced chronic back-related leg pain (sciatica or radicular LBP) and disability were observed at 12 weeks follow-up. Home exercise includes positioning and stabilization exercises.
Canadian Chiropractic Guideline Initiative
www.chiroguidelines.org
December is approaching and snowy weathers could be coming your way! With every snowfall, comes with shoveling and keeping your street free from snow turning into ice and avoiding others to fall on the street. If you are helping others preventing injuries, shouldn't you be taking care of yourself as well?
Shoveling can put a lot of strain on your back muscles so you may need to take caution of how much stress you are actually applying to these muscles. Here are 4 tips you can follow to reduce your chances of injuring your lower back.
Warm up your muscles first. Try to do some stretches  as warming up your muscles can be less susceptible to injury.
The method you use to shovel. Bending at the knees and hips and using your leg muscles instead of your back, it can relieve stress off your back muscles and reduces risks of straining them.
If you are already experiencing low back pain, avoid the job. Try and see if it's possible to find another volunteer, who doesn't have back pain, to shovel the snow.
Use a different shovel. Try a shovel with a curved handle which provides you with an upright stance with adjustable length.
Try and experiment with these tips and your back muscles will definitely thank you!
As leaves are falling and rainy weathers are coming to Vancouver, these factors can become a hazard and lead to slipping and falling. Here are tips on how to prevent or reduce your chances of falling this autumn and winter!
First of all, if you wear reading glasses frequently, make sure they are off when you are walking down the stairs or along the slippery street. The shoes you are wearing are important since some footwear are more prone to falling. If heels are not required for your work attire, then try to avoid wearing them as much as possible especially during wet and rainy weathers. Physical activity in general is important as it keeps your muscle moving and maintaining strength which is important for reducing the chances of falling since your muscles can provide more support. If you are at home, try your best to avoid leaving items on the ground and making sure the floor is dry to prevent slipping and injuring yourself. When possible, watch out for assertive devices such as rails on the stairs, or carry a flashlight to help reduce the risks of slipping while travelling.
There are many other tips to follow other than the ones listed above but the main concept to remember is to stay safe and be careful.
Do you wake up often feeling low back pain? The solution could be the way you sleep at night. What could you do to help prevent that? Continue reading for some tips to help reduce your chances of having low back pain when you wake up in the morning.
The way you sleep can affect how stiff your muscles can be. If you are a side sleeper, you can try slipping a pillow between your legs to help align the spine a bit better. If you are a back sleeper, if possible, try to slip a pillow under your knee to maintain the neutral spine curvature. If you sleep on your stomach, you can put a pillow between the bed and your abdominal to help level out the stress places on your neck.
Picking a mattress could be a solution to your problem. Your mattress should provide some support for your back or else it might be time to switch for another one. Choosing the correct pillow can help reduce your likelihood of experiencing back pain. An ideal pillow should be able to support your head, neck, and shoulders to prevent so much pressure building up on them.
If you are still unsure, you can drop in and see a chiropractor to get treatment for your low back pain and get more tips on a better sleep lifestyle!
Do you sometimes experience pain or stiffness in your knees? Have you heard of knee osteoarthritis before? If so, how will you know the pain in your knee is due to this condition or is related to something else?
As mentioned in a previous blog, osteoarthritis is a tear and wear occurring in the cartilage. Knee osteoarthritis is defined as a tear or wear that is located in the cartilage and/or joints in the knee. Some symptoms you may experience if you have knee osteoarthritis are pain, stiffness, swelling, and possibly a grinding sensation during knee movement.  Presently, there is no cure for osteoarthritis but there are methods you can do to reduce pain or stiffness.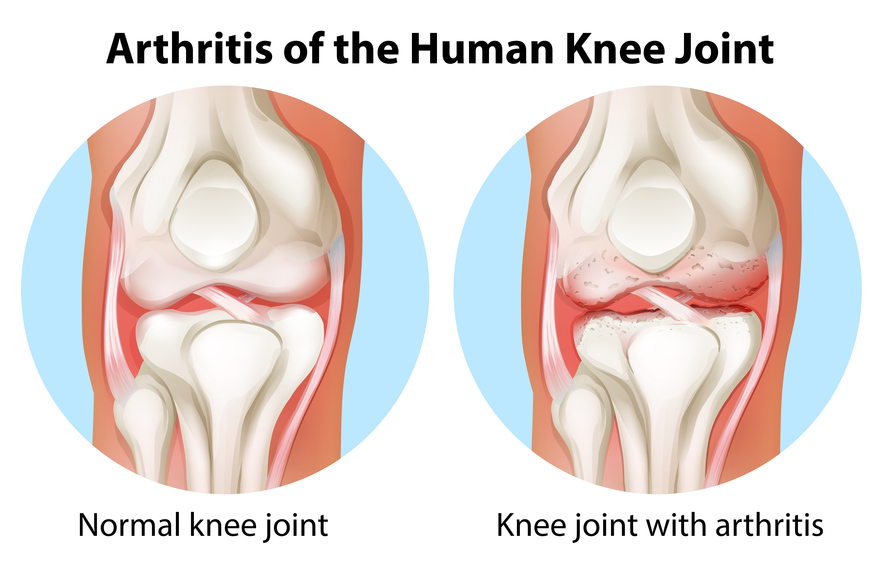 There are 5 stages for knee osteoarthritis:
Stage 0: This stage is the "normal" condition where the knee is not inflamed and neither pain or impairment is occurring
Stage 1: There is minor bone spur growth occurring but usually discomfort or pain is not felt during this stage
Stage 2: Bone spur is still happening and is considered as a mild stage of this condition but cartilage is still considered "healthy" as this stage
Stage 3: This stage is classified as the "moderate" stage/condition. The space between the two bones have been decreased and individuals will likely experience stiffness, pain, and/or discomfort. Swelling can also occur at this stage
Stage 4: During this stage, a lot of pain and discomfort can be felt since the cartilage between the two bones is greatly reduced and is practically almost gone
If you believe you may be experiencing knee osteoarthritis, come see a practitioner here or to your general physician to see what can be done to reduce your pain!