Chiropractic
Experiencing a terrible neck pain sensation? You may be experiencing whiplash, especially if you were recently involved in a motor vehicle accident.
Whiplash is caused by high force of forward and backward movement, which is quite common in drivers who have been in a car accident. This condition does not only occur from car accidents, but it is common in contact sports such as football and any form of physical abuse and/or assault.
How do you know if you have a whiplash? Some symptoms of a whiplash include stiffness, headaches, dizziness and more. Normally, whiplash injuries may not mean much but sometimes there could be other problems associated with your neck pain and it is always advised to have your whiplash pain checked out with your general physician or chiropractor.
Low back pain can affect how your performance is, whether you are at work or at school. Most of us like to resort to pain killers to relieve our discomfort or pain but should we actually take medication to help with our back pain?
NSAIDs can be very harmful and lead to other health problems such as ulcers, stroke, and heart attacks. Studies suggest that medications help minimally in relieving pain and cause a lot of harm instead. 
What should you do when you are experiencing low back pain?
If the back pain isn't linked to anything dangerous, then let your back take a rest for a day or two with minimal stretching and exercising. If needed, physical therapy can be applied as well after a day of resting. However, if the back pain worsens or does not improve, it is always safer to contact a practitioner and figure out what could be the cause of the low back pain.
With a new case of low back pain, having rest and applying heat is important for the first few days. As the pain continues to linger, you can try a massage, acupuncture or spinal manipulation. If the pain continues, you can mention to your general practitioner about the issue and they could suggest a MRI to eliminate any serious issues.
Every individual experience low back pain at a different level so if you feel that you cannot handle the pain, it is best to see your local chiropractor or practitioner for more help.
School is approaching faster than we expected. How should we help our children protect their health as they go back to school?
Choosing the Right Backpack
First you should consider the backpack your child currently has. Does it seem like it is time for a new one? Here are some tips you may use to help your child find the right backpack without harming your child's back.
Have your child's backpack weight distributed evenly so each side of the body receives the same level of stress.
They should wear two shoulder strap bags rather than one strap as it can help prevent the spine from curving onto one side more than the other.
Have the backpack closely attached to your back. The further away it is from your back, the harder it is to achieve proper balance.
Make sure the backpack does not hang 4 inches below the waistline.
Buy adjustable shoulder straps that fits your child.
How do you Know if it Fits? 
Now that you have considered the aspects of the backpack, how would you know if it is actually good for your child? It is time to ask them some questions.
Help your children figure out what needs to put in their backpack. The heaviest items should be in the middle of the backpack to prevent curving of the spine.
Ask your child if they are experiencing any discomfort.
Inform them to wear both straps rather than one.
Encourage them to reduce backpack wearing times. If there is a place to put down their backpack then suggest them to do that to give your back a rest.
Monitor their posture and backpacks overtime to see if the straps are still adjustable and the backpack weight is evenly distributed.
Keeping the Same Level of Exercise 
With school comes homework and assignments. This can mean that your child will be inside and sitting more often. Encourage them to play sports with their friends, especially on a sunny day. If not, remind them to take a rest after an hour of sitting or laying down to walk around the house and do some stretches. Try to recommend these different levels of physical activity for your child's active life. The 3 different types are: moderate aerobic exercise, vigorous aerobic exercise, and strengthening activities.
If you and your child follow these suggested tips, it can keep your lifestyle bad-posture free and healthy.
We all experience a little bit of neck pain from time to time but there are many easy ways to avoid having that neck pain.
Neck pain can occur when the neck muscles are strained due to poor sitting posture and sleeping posture. Most neck pains gradually leave on their own but in rare cases, it can lead to numbness or pain that radiates down your arm, which is quite severe and you should seek medical care. Experiencing neck pain can mean your body is indicating that you are performing movements that is straining on the muscles.
One common problem associated with neck pain is when you constantly look down on your cell phone. This is known as "text neck". As you spend so much time looking down at your phone, your neck starts to bent forward and can lead to more problems such as pain on the shoulders and back.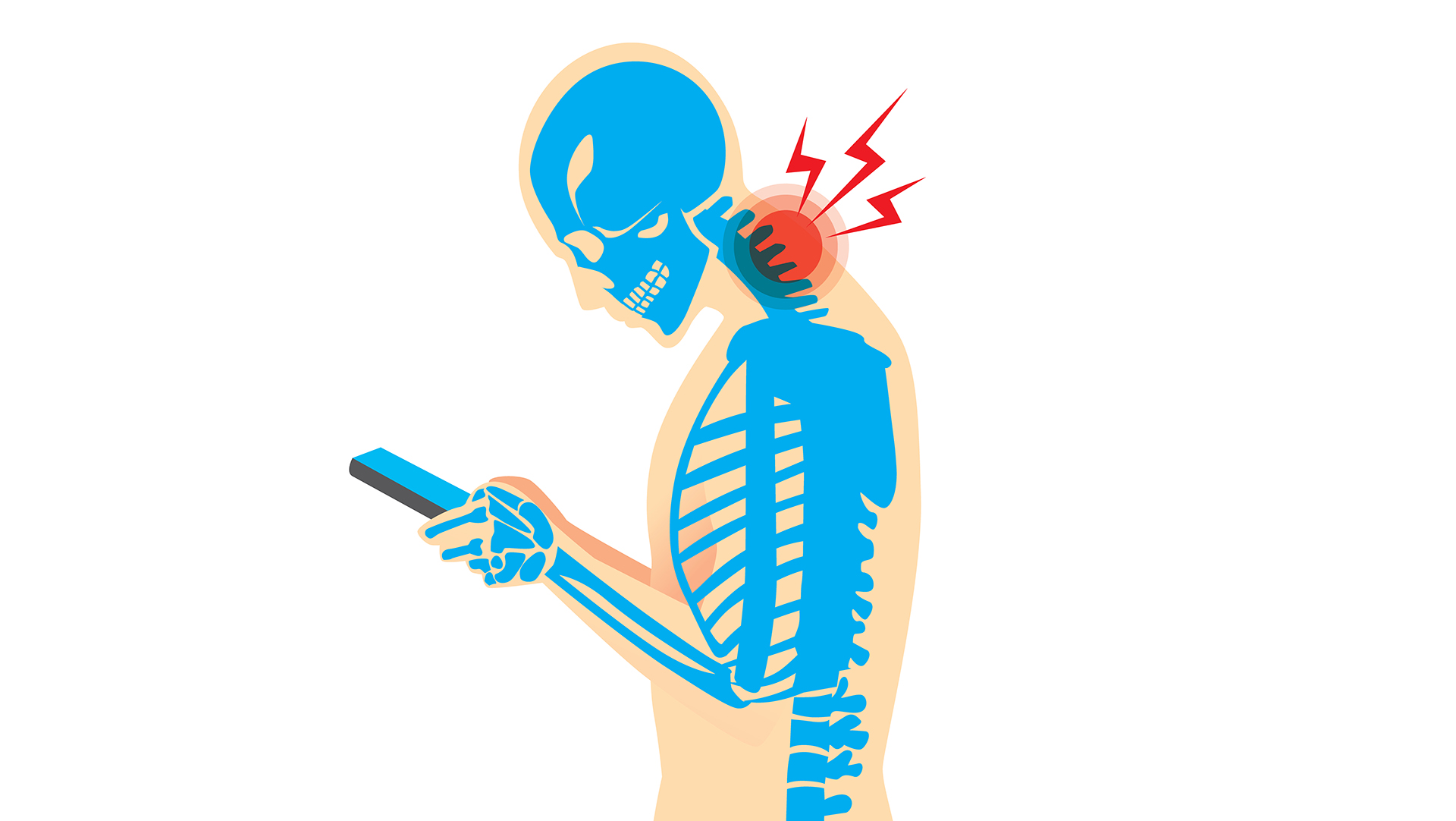 Here are some tips you can try to ease your neck pain:
Try to switch into different positions: Do not stay in the same position for a long time, you can try getting up and walking around the house to drink some water and then go back to your phone.
Stretching your neck: By stretching and strengthening your neck and back muscles, you are able to hold up your posture better which can help reduce the amount of neck pain you may be experiencing.
Make ergonomic adjustments: Try elevating your laptop or monitor screen to eye level so you can prevent from bending your neck forward and causing extra strain.
Use the right amount of pillows: Do not try to layer up a bunch of pillows as it can affect your neck's range of motion
Have a good amount of sleep: Sleeping helps your body heal, and also reduce any musculoskeletal pain
If these tips are not helpful, it is always safer to see a practitioner about your recurring neck pain!
Scoliosis is a condition where the curve in your spine is abnormal. Normally, your spine has a natural "S" shape but individuals with scoliosis tend to have their spine curved sideways. From the posterior view, individuals with scoliosis will not have a straight spine but a slight C curve. Most cases of scoliosis are mild however some cases can be severe which can lead to health problems. The causes of scoliosis is still unknown but can be hereditary.
Who is at risk?
There are many factors that may contribute to scoliosis:
Age: During puberty, signs and symptoms are most commonly diagnosed
Sex: Girls tend to be at a higher risk than boys to develop scoliosis
Genetics: As this condition is hereditary, individuals who have family members who suffer from scoliosis may have a higher risk of developing it
If you have a mild case of scoliosis, there should not be a high risk of complications. However, some complications may occur for this condition, such as lung and heart damage, and back problems. Surgery may be recommended if you suffer from severe scoliosis. Other non-surgical treatments include wearing a brace or just observations from a doctor for mild cases of scoliosis.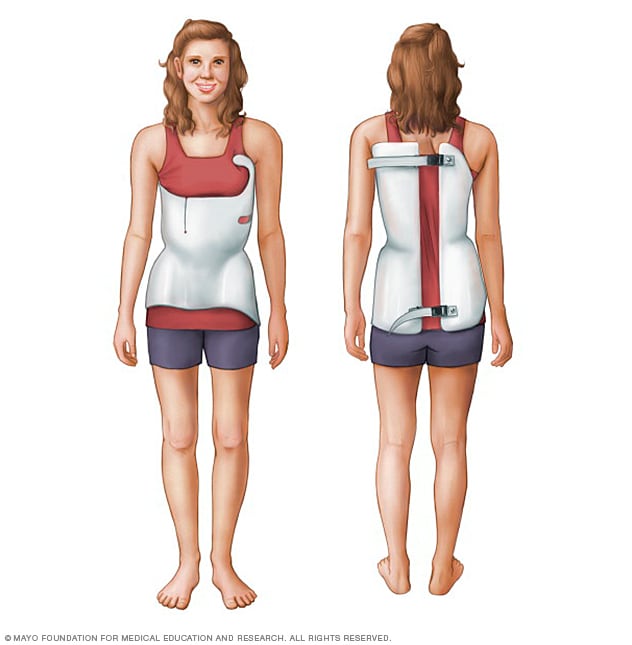 Signs and symptoms of scoliosis may not seem that obvious. One sign to look for is usually uneven hips or shoulder blades. It is always best to consult with a doctor to prevent a mild case of scoliosis into a more severe case!
Located at the back of your lower leg close to the heel lies the Achilles tendon. This tendon attaches the muscles at the calves to the heel bone for movement. At times, the tendon could become inflamed due to increased intensity of running or walking. When the Achilles tendon is inflamed, this condition is called Achilles tendinitis. This is most commonly found in runners or athletes. In most cases, non-surgical treatments are sufficient enough for Achilles tendinitis to be treated. If left untreated, your Achilles tendon maybe remain inflamed and it can lead to a tear in the tendon which may require surgical repair.
How can you tell if you are experiencing Achilles Tendinitis? Some symptoms may include:
swelling at the back of your heel
tight calf muscles
mild ache, stiffness, and limited motion around the heel
As mentioned, Achilles tendinitis usually does not require surgery. Letting your Achilles tendon rest is important. Wearing a brace to help relieve stress on the tendon can help with the treatment. The RICE method can be applied.
Everyone has heard of no slouching or have a good posture but what are the benefits of maintaining good posture?
Proper posture is when your body is aligned in a position where there is the least amount of stress on your ligaments, tendons, and muscles. There are three types of good posture: sitting, standing, and lying down.
Proper sitting posture consist of a straight back with your buttocks touching the back of the chair. The feet should be parallel and touching the ground with your knees bent at a right angle.
Good standing posture is when your ears, shoulders, hips, knee, and your ankle are lined up straight in a vertical line.
A healthy lying position is keeping the cervical spine in a neutral position.
What are the benefits of having good posture?
Back and neck pain are reduced
prevents muscle aches
your muscles are able to work more efficiently due to reduced muscle strain
decreases risk of arthritis
vital organs are in proper position due to proper alignment of ligaments, tendons, and muscles
protects spinal joints from injury
helps with proper breathing which is important for your cardiopulmonary system for effective organ function
provides a tall and slim appearance
What are the risks of poor posture?
increased risk of experiencing back and neck pain
abnormal muscle strain results in inefficient muscle movement
problems with breathing and digestion may occur
muscle tightness
increased stress on the spine can result in subluxations
If you are experiencing muscle tightness or back pain, one important aspect to fix those problems could be your posture! Maintaining good posture can do wonders for your body and if you are constantly sitting down due to your job then try out these office stretches to help prevent muscle aches caused by prolonged periods of sitting.
Sciatica occurs when the sciatic nerve which runs along from the lumbar vertebrae down to the leg is compressed. There are many reasons why sciatica occurs. It most commonly occurs due to a herniated disk or bone spur on the spine compressing onto the sciatic nerve. In most cases, the pain associated with sciatica can be fixed with non-surgical treatments.
Here are some exercises and stretches you can try to relieve sciatica pain:
Reclining pigeon pose: This pose helps with opening up your hips by first laying down on your back then bring your right leg to a right angle. Bring the left leg up and rest your right ankle on the left knee and hold. This helps stretches out the piriformis muscle.
Sitting pigeon pose: This pose is similar to the reclining pigeon pose but the starting position is sitting upright.
Forward pigeon pose: This pose begins with kneeling on all four and then bringing the right ankle over the left knee, similar to the reclining pigeon pose.
Knee to opposite shoulder: Starting in the supine position, bring one of your knee up to the opposite shoulder.
Sitting spinal stretch: Sitting down with your legs straighten out then have your right leg, bent, and cross over the left leg lining up with the left knee. After, gently turn your body towards the right.
Standing hamstring stretch: Have your right leg elevated near the hip level and slowly bend down to reach your toes.
These stretches can help reduce or relieve pain associated from sciatica and are convenient to do at home!
Medial epicondylitis, also known as Golfer's elbow, is a condition where the tendons on the inner part of the elbow are inflamed or injured. The tendons on this side are attached to the muscles that help bend the wrist and fingers. Inflammation of the tendon on the outer portion of the elbow is called Lateral epicondylitis or Tennis elbow. An individual with this condition will have pain or difficulty extending the fingers or bending the wrist backwards. Although they are commonly known as Tennis elbow and Golfer's elbow, it does not mean only people who regularly play tennis or golf experience this. Normally, these conditions occur when that area is overused.
Who are affected?
Not only golf and tennis players are affected, many individuals who overuse their forearm by bending the wrists can be affected too. Tennis elbow is common in adults between the age of 30-50. Individuals who are plumbers, cooks, or carpenters are more at risk for developing this condition due to overworking of the muscles and inflaming the tendon. For individuals who garden, shovel or play golf frequently may be at higher risk of developing medial epicondylitis as these actions mainly require the use of flexor muscles in the forearm.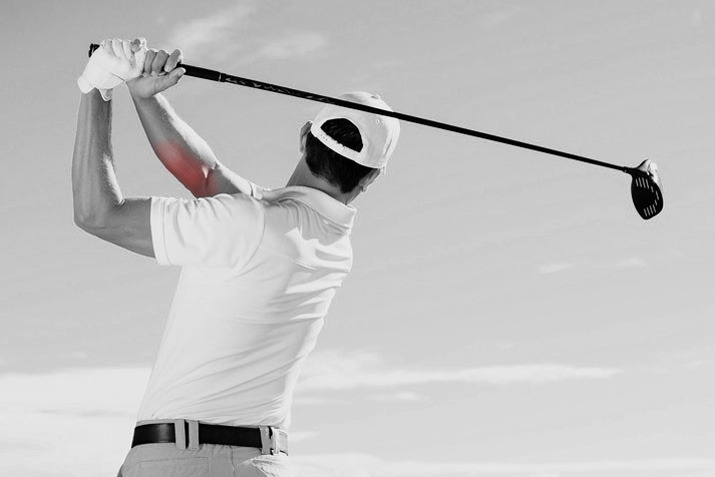 Symptoms 
For Tennis elbow, symptoms include:
pain radiating from outside of the elbow down to the forearm
tenderness on the outer part of the elbow
weak grip or weakness in forearm
pain is present when gripping
For Golfer's elbow, symptoms include:
pain and tenderness on the inner part of the elbow extending to the inner forearm
stiffness
weakness in hands and wrists
numbness or tingling sensation in the ring and pinky finger
Normally, treatments for both medial and lateral epicondylitis are non-surgical. The most important treatment for these conditions is to rest or reduce the amount of strain on the tendon and muscles surrounding the elbow. This treatment may require wearing a brace or splint. Other treatments available are ice, stretch, or electro therapy.
If these conditions worsen or do not show any improvement, find a licensed health care provider
Spondylolysis is a condition where there is a fracture at the vertebrae while Spondylolisthesis is the term used when one of the vertebrae slips out of alignment which may affect the spinal nerves. In some severe cases, if the bone is fractured too much, it can lead to the slippage of the bone. This injury is common in young athletes who often have chronic stress applied to the lower back.
Spondylolysis
As mentioned above, this is a condition when a fracture has occurred on the vertebrae. The vertebrae consists of 24 bones stacked on top of each other producing your spine which contains the thin but crucially important spinal cord. The fracture mostly occurs at the weakest area, pars interarticularis, which is the thin part of the vertebrae connecting the upper and lower facet joints. One of the most common area in the vertebrae for these fractures to occur is in the lumbar region, mostly at the fourth or fifth lumbar vertebra.
Spondylolisthesis
This condition is more prone to occur if you already have Spondylolysis. When the pars interarticularis portion of the vertebra is damaged or separated, it can lead to slippage of the vertebra in the forward position and causes pinching of the spinal nerves that affects other regions of your body. This commonly occurs at the lumbar region, where the "S" curve is prominent and most of the stress occurs at this region.
Symptoms
Some symptoms may not occur if the cases are mild for both Spondylolysis and Spondyloisthesis. During mild cases, the condition is normally determined when looking through an x-ray. Symptoms of these conditions include low back pain, stiffness, muscle spasms, and difficulty standing or walking.
For Spondyloisthesis, numbness or tingling sensation can occur as there is impingement of the spinal nerves due to the shift in the vertebra.
Treatments
The goal of these treatments is to reduce pain, allow the fractures to heal so the individual can return to daily sport activities without major complications. There are two surgical and non-surgical treatments for these two conditions.
Non-surgical treatments include:
Rest
Exercise Therapy or Chiropractic Treatment
Braces
If these non-surgical treatments do not help then the doctor will recommended surgical treatment on the vertebra.
Prevention 
Always stay safe when playing sports to reduce the risk of developing Spondylolysis and Spondyloisthesis. If you experience any of the symptoms mentioned above, make a quick appointment with one of our practitioner here at Rupert Health Centre as your vertebrae physically functions to protect your nerves, not to cause damage to them!