Uncategorized
What is PET?
PET is the abbreviation for Polyethene Terephthalate, used to make plastic food containers, water bottles, "Sippy" bottles, baby toys, ovenware and eating utensils. The sources of exposure include plastic materials used in packaging, children toys and settled house dust.
The vulnerability of the developing brain
Children are one of the top vulnerable groups. Children are more likely to expose to PET because bottles and baby toys contain a significant amount of PET. Also, some biological determinants also lead children to be a vulnerable group. These reasons include:
The blood-brain barrier isn't fully formed; it is more permeable to toxins
Rapidly growing cells are often more susceptible to toxins than slowly growing cells
Brain growth occurs over a longer duration than other organs
The fetus and child may lack enzymes to detoxify contaminants
Young children often more heavily exposed to pollutants than older children and adults
Check out for the new technology for recycling PET
https://www.foodnavigator.com/Article/2018/04/06/Unilever-partners-with-Ioniqa-and-Indorama-Ventures#.Wseds05hVh8.twitter
The government only pays doctors who paid fee-for-service (FFS) and who bill the government for a medically necessary physician or hospital service for that services. Therefore, patients are not involved in paying for that Fee-for-service. In general, FFS encourages doctors to move patients through quickly, which can decrease the quality of care, especially for sicker patients. For a better quality health care, some patients are willing to pay an out-of-pocket for FFS. So saying that patients decide to pay out-of-pocket for a service offered by an FFS doctor for better quality service, they choose the fully private clinics. The fully private clinics which provide private delivery and private payment (i.e., payment from patients, not government) are not allowed to bill the public plan unless they would take 100% of the payment from the government (i.e., not extra bill patients on top of the government payment) because extra billing is against the law under the universal public insurance plans in each province. However, this situation is confusing who is paying the doctor that FFS because that the public insurance covers the medically necessary physician or hospital service for the services is also ascribed to the Canada Health Act.  Likewise, I believe what the most fully private clinics want is to take the government payment and bill the patients on top of that. The same thing also applies to doctors who are paid under capitation by the government, because there is no patient payment involved in capitation either. The capitation is the agreement that the government pays a set of an amount by enrolled patients assigned to them per period. The capitation does not just allow doctors to build better relationships with patients; capitation also frees doctors up to concentrate on the sicker patients because they get paid for all patients each month even if the patient doesn't come in, it allows doctors to make money as crazy from the enrolled patients assigned to them.
By the way, I refer the doctors to GPs only…
In Canada Health Act(CHA) design,  the system is predominantly public financed and privately delivered. The Canada Health Act combined and replaced the Hospital and Diagnostic Services Act and the Medical Services Act in 1984.  The event in Saskatchewan (SK) such as the famous 23 day's strike just prior to creating public insurance for physicians (which then was followed by the federal Medical Services Act). It mainly results from that physicians didn't want to be working with the government, so they went on strike to remain autonomous. SK government thought it would be much easier to only have public payment and allow physicians to still function as private forms of delivery. By the time the Canada Health Act replaced the other two Acts, physicians were even more powerful and even less likely to want to change their status. The government wanted physicians' willingness to accept Fee-for-service(FFS) remuneration method. The CHA allows physicians to choose their own medical practice locations and facilitators  in exchange for the FFS remuneration method. Intuitively, the Canada Health Act is the inception of the current Medicare approach. The current Medicare approach in Canada leads physicians to have a chance to create the long waiting time.
Read more about the history of the Canadian health system:
http://canadiandoctorsformedicare.ca/Who-We-Are/the-case-for-medicare.html
Co2 gases from automobile pollution is the driving factor in climate change.
Electric car such as the Tesla Model S, X and 3 are 100% pure electric vehicle.
There is nothing more annoying when a Plug-in hybrid that is taking up an electric car charger. Oil companies will tell you electric cars are not practical and we continue to rely on their products.
Get your very own Tesla Model S or X with unlimited Supercharging and $700 credit until  April 30, 2018
Free Tesla SuperCharging and $700 credit
High blood pressure is a condition that can be common, especially in the older generation however the symptoms of this condition can be quite asymptomatic so you may not know if you have high blood pressure until you have a visit with your general physician.
For an individual to be diagnosed with high blood pressure, their readings should be between 130/80 to 139/89 for stage 1 high blood pressure. For stage 2 high blood pressure, the systolic and diastolic readings would be over 140/90. However, this condition is not completely irreversible. If you can manage and make changes to your diet and lifestyle then this condition can be controlled and you can still maintain a healthy lifestyle and continue working and playing but with some caution.
As many individuals do not know how high their blood pressure is currently, it is always safe to do regular checkups in order to prevent having high blood pressure and continue living an optimal lifestyle daily!
Arthritis is a common medical term many of us have heard about. There is also a lot of us who has experienced or is at risk for it. However, did you know there are 2 types of Arthritis?
The first type is osteoarthritis. This is defined when there are tears and wears of the cartilage at the end of the bones. As the cartilage is wearing out, the joints are rubbing against each other more frequently. This type is more commonly present in individuals who are over the age of 65. Factors such as obesity and overuse of the cartilage area can increase your risk of developing osteoarthritis. The symptoms associated with osteoarthritis are morning stiffness, pain which is decreased with movement, swelling, and any cracking and/or clicking sounds occurring in the joint area.
The second type is called rheumatoid arthritis. This is an autoimmune disorder where it identifies normal functioning joints as abnormal therefore resulting in inflammation and pain. If inflammation isn't taken care of, it can cause further damage to your cartilage and joints. Rheumatoid arthritis is commonly found in females who are 30-60 years of age. Symptoms associated with rheumatoid arthritis are similar to osteoarthritis but the stiffness and pain does not improve with movement.
If you have arthritis, what should you be doing? You can always try some stretches to help relieve arthritis pain. Always consider warming up before your stretches to prevent more pain from developing and try to do stretches during the least painful time of the day. If you move from time to time, it can actually relieve some pain and stiffness as well as using labor-saving devices and adaptive aids.
Just because you are experiencing arthritis, it doesn't mean that you are limited to physical activity and exercise. Some exercises can help with rheumatoid arthritis. Consider putting aerobic conditioning, resistance training, stretching and flexibility exercises, and balance exercises into your active lifestyle, which all of these can help ease rheumatoid arthritis.
Sunny and warmer weathers are approaching, why not enjoy the sun while exercising outdoors?
There are many benefits when it comes to exercising outdoors with fresh air rather compared to indoors.  Exercising in a natural environment can increase enjoyment and improve self-esteem. Studies have also shown that exercising outdoors not only improves physical health but also mental health. There are many ways to motivate yourself to do outdoor activities, such as, setting goals that allows you to go outside and enjoy the fresh air. You can also invite a friend to work on similar goals and achieve them together as this can increase your motivation. Exercising outdoors does not only involve intense cardio such as running, you can play sports or even go on a hike. If you enjoy those activities, it can help you coordinate it into your daily physical routine without making it seem like a chore you need to complete.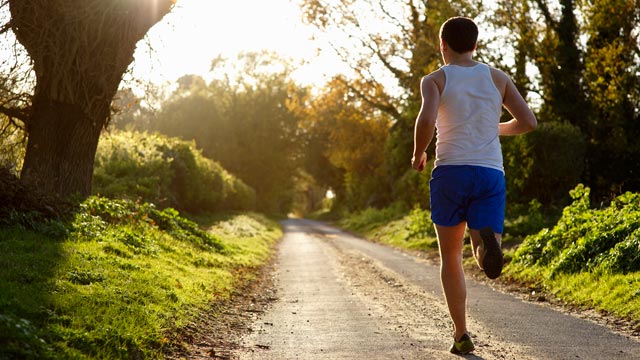 Outdoor activities can be beneficial but it can also be dangerous if you do not take care of your body throughout the process. During hot weathers, your body temperature will increase and naturally produce sweat to cool down. As you actively move, your body temperature will increase along with the increased body temperature caused from the sun. The body will then have to compensate for both situations. The body compensates this by increasing blood circulation to your skin to cool off and increase heart rate.
It is very important to understand the signs your body is telling you since there are many heat-related conditions that can occur on sunny days and can become life-threatening. Some heat-related illnesses you can experience are heat cramps, heat syncope, heat exhaustion, and heatstroke. Signs and symptoms you may experience are muscle cramps, nausea and dizziness, weakness, headaches,  or confusion.
To avoid these conditions, remember to stay hydrated, avoid midday sun, dress appropriately, and know your fitness level!
Despite the seemingly alarming name, degenerative disc disease (DDD) is one of the most common causes for lower back pain. It is not strictly considered a disease, as most everyone has some form of disc degeneration as they age, but depending on the condition, the symptoms may flare up more often and intensely than others.
The spine is built up of segments of bone, each called vertebrae, with intervertebral discs in between, acting as a shock-absorbing 'cushion' to protect the vertebrae from damage. These discs are made of two structures: the nucleus pulposus, a jelly-like substance in the middle of the disc that absorbs shock, and the annulus fibrosis, the external fibres that keep the nucleus pulposus intact. A healthy disc is thick and flexible, but over time it becomes thinner as the nucleus pulposus leaks through the disc and annulus fibrosis, leading to a decreased ability to absorb shock within the backbone, causing pain. As we age, the disc also becomes more rigid and dehydrated, which creates a lesser range of movement.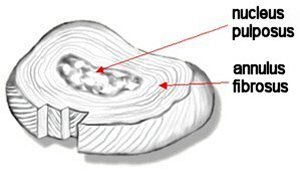 Many people with DDD do live without pain, however, symptoms are fairly common and vary from patient to patient, depending on a variety of factors including fitness level, age, lifestyle, or the presence of an injury. The pain can flare up lasting for days or months before returning to baseline levels. It can be related to certain activities such as bending, twisting, and sitting down, and it can even disable a person, albeit rare. For some people, the pain may radiate from your back to your legs or shoulders.
If you are living with back pain, modifying your daily activities to better support and lessen the strain on your back can be a step toward improving your physical health. Lessen activities that require too much lifting, bending, and twisting, or learn proper ergonomics to put the least strain on the back. Exercise such as low-impact cardio (e.g. swimming), stretching programs, and exercises that strengthen your back and core can also provide a lot of support, given that they are completed properly. Avoid sitting for long periods at a time, as it puts a lot of weight on your lumbar region, and read our recent blog post on sleeping positions that help and harm your back.
For those suffering from debilitating back pain, a chiropractor can diagnose the condition, provide treatment, and offer professional advice on how to properly live and relieve these symptoms. Make an appointment with a Rupert Health Centre chiropractor today!