The Achilles tendon  connects the muscles from the calf to the heel bone. It assists us with pointing our foot towards the ground, rising on our toes, and it allows us to push off our foot when we walk. A rupture can be caused when there is a sudden increase in training intensity. Sports that involve jumping, running, and sudden starts and stops can lead to injuries to the Achilles tendon.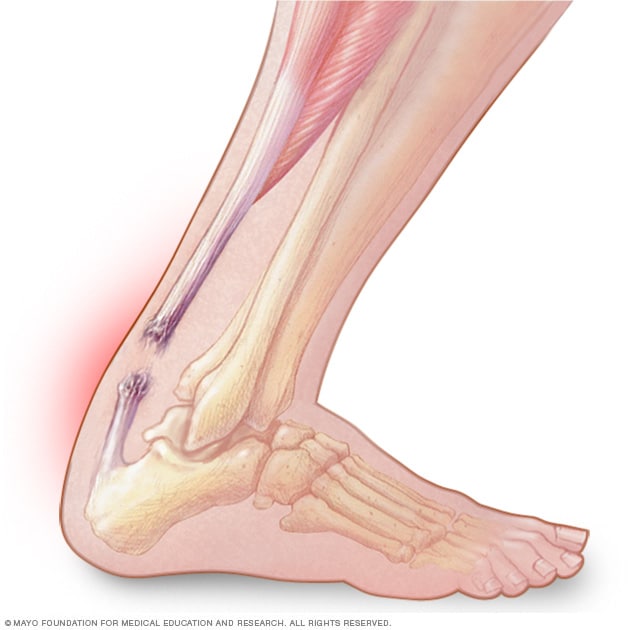 Majority of the people describe Achilles tendon rupture as a feeling of being kicked in the calf. When the injury happens, a popping or a snapping sound can be heard. Due to the pain at the back of the ankle and lower leg, the rupture can affect the injured person from walking normally. In order to prevent Achilles tendon injuries, one can increase their intensity of training slowly, perform exercises that strengthens the calf, and avoid running on hard surfaces. If a rupture occurs, surgery or nonsurgical treatments can be used to repair the Achilles tendon.
Educate on nature and course of LBP, provide reassurance, and advise on physical activity and self-management strategies. Based on patient preference and practitioner experience, we suggest:
Acute (0-3 months) Low Back Pain
Spinal Manipulative Therapy (SMT), other commonly used treatments or a combination of SMT and commonly used treatments to decrease pain and disability in the short term.      
Remark: Other commonly used treatments may include advice on posture and physical activity, and usual medical care when deemed beneficial.
Chronic ( > 3 months) Low Back Pain
Spinal Manipulative Therapy (SMT) over minimal intervention to decrease pain and disability in the short term.
Remark: Minimal intervention includes manually applied forces with diminished magnitude or 5-minute light massage.
Spinal Manipulative Therapy (SMT) or other treatments for short-term reduction in pain and disability.
Remark: Other treatments include extension exercises, advice plus exercise, myofascial therapy, or usual medical care when deemed beneficial. Pain relief is most effective within the first 6 months and functional improvement was most effective at 1 month.
Multimodal therapy with or without Spinal Manipulative Therapy (SMT) to decrease pain and disability.
Remark: Multimodal therapy with SMT treatment may also include exercise, myofascial therapy, advice, educational material, usual medical care when deemed beneficial. SMT (2 sessions per week for 4 weeks) plus standard medical therapy has shown better pain and functional outcomes than standard medical care alone. Pain and functional improvement was also shown at 3 and 12 months.
Chronic ( > 3 months) Back-Related Leg Pain (Sciatica or Radicular Low Back Pain)
Spinal Manipulative Therapy (SMT) plus home exercise and advice to reduce back pain and disability.
Remark: Reduced chronic back-related leg pain (sciatica or radicular LBP) and disability were observed at 12 weeks follow-up. Home exercise includes positioning and stabilization exercises.
Canadian Chiropractic Guideline Initiative
www.chiroguidelines.org
The healthcare system was designed to prevent the infectious disease in response to rapid industrialization, urbanization, and crowding in the late 1800s. Infectious diseases became the major issue in healthcare system at that time, so the goal of the its system is to protect people from threats of infectious diseases to their lives.
However, infectious disease is not a major issue in a developed country such as Canada anymore.  Canada has solved the problems from housing conditions, inadequate sanitation, poor working conditions associated with disease outbreaks. With the improvement of health technologies and the increase of life expectancy, therefore, chronic health conditions have emerged as major issues other than acute conditions in the current society. Chronic diseases is the health conditions that usually persist a long time and result from the accumulation of unhealthy lifestyle. Beside, another issue we are facing are more likely to be the access to the health service and its coverage inadequacy.
What is PET?
PET is the abbreviation for Polyethene Terephthalate, used to make plastic food containers, water bottles, "Sippy" bottles, baby toys, ovenware and eating utensils. The sources of exposure include plastic materials used in packaging, children toys and settled house dust.
The vulnerability of the developing brain
Children are one of the top vulnerable groups. Children are more likely to expose to PET because bottles and baby toys contain a significant amount of PET. Also, some biological determinants also lead children to be a vulnerable group. These reasons include:
The blood-brain barrier isn't fully formed; it is more permeable to toxins
Rapidly growing cells are often more susceptible to toxins than slowly growing cells
Brain growth occurs over a longer duration than other organs
The fetus and child may lack enzymes to detoxify contaminants
Young children often more heavily exposed to pollutants than older children and adults
Check out for the new technology for recycling PET
https://www.foodnavigator.com/Article/2018/04/06/Unilever-partners-with-Ioniqa-and-Indorama-Ventures#.Wseds05hVh8.twitter
The government only pays doctors who paid fee-for-service (FFS) and who bill the government for a medically necessary physician or hospital service for that services. Therefore, patients are not involved in paying for that Fee-for-service. In general, FFS encourages doctors to move patients through quickly, which can decrease the quality of care, especially for sicker patients. For a better quality health care, some patients are willing to pay an out-of-pocket for FFS. So saying that patients decide to pay out-of-pocket for a service offered by an FFS doctor for better quality service, they choose the fully private clinics. The fully private clinics which provide private delivery and private payment (i.e., payment from patients, not government) are not allowed to bill the public plan unless they would take 100% of the payment from the government (i.e., not extra bill patients on top of the government payment) because extra billing is against the law under the universal public insurance plans in each province. However, this situation is confusing who is paying the doctor that FFS because that the public insurance covers the medically necessary physician or hospital service for the services is also ascribed to the Canada Health Act.  Likewise, I believe what the most fully private clinics want is to take the government payment and bill the patients on top of that. The same thing also applies to doctors who are paid under capitation by the government, because there is no patient payment involved in capitation either. The capitation is the agreement that the government pays a set of an amount by enrolled patients assigned to them per period. The capitation does not just allow doctors to build better relationships with patients; capitation also frees doctors up to concentrate on the sicker patients because they get paid for all patients each month even if the patient doesn't come in, it allows doctors to make money as crazy from the enrolled patients assigned to them.
By the way, I refer the doctors to GPs only…
In Canada Health Act(CHA) design,  the system is predominantly public financed and privately delivered. The Canada Health Act combined and replaced the Hospital and Diagnostic Services Act and the Medical Services Act in 1984.  The event in Saskatchewan (SK) such as the famous 23 day's strike just prior to creating public insurance for physicians (which then was followed by the federal Medical Services Act). It mainly results from that physicians didn't want to be working with the government, so they went on strike to remain autonomous. SK government thought it would be much easier to only have public payment and allow physicians to still function as private forms of delivery. By the time the Canada Health Act replaced the other two Acts, physicians were even more powerful and even less likely to want to change their status. The government wanted physicians' willingness to accept Fee-for-service(FFS) remuneration method. The CHA allows physicians to choose their own medical practice locations and facilitators  in exchange for the FFS remuneration method. Intuitively, the Canada Health Act is the inception of the current Medicare approach. The current Medicare approach in Canada leads physicians to have a chance to create the long waiting time.
Read more about the history of the Canadian health system:
http://canadiandoctorsformedicare.ca/Who-We-Are/the-case-for-medicare.html
ICBC is not broke.  According to the Globe and Mail.
In a written statement, ICBC spokesman Adam Grossman said the insurer still has claims reserves of $11.7-billion, but that ICBC is losing money at an unsustainable pace.
Than why is the government asking to increase the insurance premiums of every driver by $400 and blame everyone else but bad management.  If this was a publicly traded company, the CEO would be fired already along with senior management.
Adolescents' attitude towards smoking is found to an important determinant of smoking intentions. Evidence supporting this point has largely been based on a research by Grogan et al. that explores how young people recognize smoking behavior and consider social role of smoking. There are 12 group interviews, with 47 high school children and 50 university undergraduates in Yorkshire, UK. The study examined how the participants ascribe their smoking behaviour. (Fry, Grogan, Gough, & Conner, 2008).
Some participants in the study demonstrated that smoking allows them to present the desirable appearance to others. For instance, some male participants claimed that smoking would show 'cool' and 'macho' appearance. Besides, some participants claimed that the brands of cigarette revealed their social identities. For example, 'Marlborough Light' may refer to the identity of 'young' (Fry, Grogan, Gough, & Conner, 2008).
Many smokers also used cigarettes as a 'social tool.' Some participants claimed that they smoked cigarettes for engaging themselves with others, meeting for the first time for example. Many participants claimed that young people manage to smoke together when they get alone in a fixed space. Smoking helps to avoid the 'awkward' quiet and ease the dull feeling during in a conversation (Fry, Grogan, Gough, & Conner, 2008).
Also, some participants described that smoking allows them to integrate into a specific social group. When the smoking become normative in the group, they are more likely to conform to the group and become the leaders of the groups later. Later, they will suggest others in the peer group to adapt to the collective behavior such as smoking. Similarly, adolescents would gain indicators of power and status by the smoking behavior in school. For instance, many participants described hands gesture as being 'demonstrative,' smoking seemed to be crucial to control others when in company with papers (Fry, Grogan, Gough, & Conner, 2008).
The findings fit in existing psychological approaches as the TPB (Theory of Planned Behavior) and SNT (Social Network Theory). The TPB explores the relationship between behavior and beliefs, attitudes, and intentions, and it assumes behavioral intention is the most important determinant of behavior. According to the research, the purpose of smoking is to capture others' attentions and present their desirable appearance; the smoking serves as a visible indication of a desirable identity such 'cool' and 'young' identities. Those young people are more likely to agree with the benefit values of smoking. The social network theory exploring the influence of social relationships on health decision making and behavior. SNT suggests that the individuals' bahaviours are reciprocity of relationships derived from social environments. When people want to centralize them in the environments, they smoke and engage others in smoking as default behaviour. The study shows cigarettes can function not only as a marker of collective identity, but also as a device employed to render social interactions more manageable as a communication pattern in the environment. Namely, they maintain the relationship by smoking together, both the in the group and meeting young people. The expectation among young people to smoke makes it difficult to avoid either becoming a smoker or being encouraged to be one. Also, the study argued that adolescents are more likely to mimic parental smoking behavior if they perceive parents as being more engaged, especially they are congruent with parent gender This also fits with the SNT. The theory suggests that they learn not only from their own experiences, but by observing the actions of others and the benefits of those actions.

References
Fry, G., Grogan, S., Gough, B., & Conner, M. (2008). Smoking in the lived world: how young people make sense of the social role cigarettes play in their lives. British Journal of Social Psychology, 763-780.
Co2 gases from automobile pollution is the driving factor in climate change.
Electric car such as the Tesla Model S, X and 3 are 100% pure electric vehicle.
There is nothing more annoying when a Plug-in hybrid that is taking up an electric car charger. Oil companies will tell you electric cars are not practical and we continue to rely on their products.
Get your very own Tesla Model S or X with unlimited Supercharging and $700 credit until  April 30, 2018
Free Tesla SuperCharging and $700 credit
Feeling anxious? It isn't always a wonderful sensation to be feeling. Although anxiety is condition that affects mental health, it should still be cautiously looked over because it could lead to depression, creating a higher chance for committing suicide. These steps can be avoided if we take more interest in others who may seem to be showing these qualities.
One way to ease stress is to write down your worries as it may relieve some "thoughts" from your mind, reducing the amount of worrying that occurs in your brain. This does not benefit from everyone who have anxiety as this is only found from studies that writing thoughts down can help. There has also been other studies regarding probiotics to help with depression and anxiety, however the conclusions are still unknown but there is no harm in taking them as they are beneficial for your gastrointestinal system.
Trying to help someone with their anxiety or depression requires more effort and time than you would expect, as there is something referred as "postpartum depression". There could always be moments where the person can go back to their anxious lifestyle even if they had been treated for their anxiety. If you knew someone who has anxiety or depression, please show care for them as it is a long process for them to handle and knowing others in their life show that they care, can really help someone overcome depression and anxiety.