Physical Activity
The physical results of stress:
Stress can have a negative impact on our physical health and cause things such as headaches, stiffness, muscle aches, and pains. Additionally, tight muscles can lead to posture issues and poor sleep, which can end up creating more stress.
To avoid stress affecting your physical health, make sure to always adjust your posture especially at times when you are feeling stressed. Having improper posture frequently can lead to problems with your back and spine overtime. If you are clenched up and feeling stressed, check your posture and adjust your posture so that you are sitting up tall and straight. To make sure you are maintaining a straight back position, it is best to sit on a chair with back support or have your back against a wall.
The importance of mindfulness:
Mindfulness meditation is a common technique used to combat stress, anxiety, chronic pain, depression, and headaches. Add mindfulness to your everyday routine; even as little as 10 minutes can make a big difference in our overall sense of well-being. Meditation is easy to implement to anyone's lifestyle, as it is a cost saving practice that involves low physical and emotional risk and has the potential to empower people to be more actively engaged in their mental health.
Some significant health benefits of mindfulness are insignificant improvements in pain, anxiety, overall well-being, and the ability to participate in daily activities. Incorporating mindfulness frequently has also been found to improve your overall mood and reduce stress.
Ways to practice mindfulness:
Yoga: Along with meditation, yoga is an easy practice that can help reduce stress and manage your pain. Yoga is a mind-body practice that combines physical poses, controlled breathing, and meditation or relaxation. However, take caution and only do poses or stretches that that work for your individual and physical limits.
Mindful eating: Being mindful with the food you consume can be done by eating slowly and paying attention to the aromas, texture, flavours, and taste of food. Mindful eating does not only make positive changes to your eating habits, but it can also create awareness of your feelings, thoughts, and emotions.
Mindful breathing: Many mindfulness exercises involve practicing just simply being mindful, such as focusing on breath, posture, and the space you occupy in the present moment.
What is Ergonomics?
Ergonomics is the science of fitting workplace conditions and job demands to workers' capabilities. For example, the size data of human bodies to design chairs, tables, and walkways. While many people are adjusting to working from home, it is important to create an environment that is ergonomically friendly, especially for those who are sitting at a desk for long periods of time. Creating a proper ergonomic workspace is crucial to keep you comfortable at work and can prevent injuries from occurring overtime.
Creating the Perfect Ergonomic Workspace
Consider following these tips when creating a suitable workspace:
1. Choosing the right chair
Adjust your chair's height to make sure that your feet rest flat on the ground. Make sure that your hips, feet and elbows are bent at 90 degrees. Use a footrest to support your feet if needed. Armrests of your chair should be adjusted so that your arms can rest on them with ease, ensuring that your neck and shoulders are relaxed downwards.
2. Adjusting your desk and monitor height
Position your computer monitor to the height of your eye level and at least an arm's length away to reduce any strain on your neck or eyes. A good height would mean you shouldn't have to hunch over or tilt your head up to see the computer screen. If you are using a laptop, adjust the height by using a laptop stand when typing to reduce strain and tension.
3. Organizing your desk space
Keep frequently used tools within close proximity to minimize reaching. For instance, keep your keyboard mouse, pen and notepad, and telephone nearby to avoid repeatedly twisting to reach for these things. Make sure that there is clearance under your desk for your knees, thighs, and feet and try to not store items under your desk.
4. Having good posture
To reduce strain, ensure your shoulders are relaxed and placed back. Align your head with your shoulders, and keep your hands at or below elbow level. Continue to be aware of your head position and posture throughout the day, as we often forget about our posture from concentrating on the computer too long.
5. Taking regular breaks and stretching
Follow the 20-20-20 rule: After every 20 minutes of looking at your computer screen, give your eyes a 20 second break by looking at something else that is at least 20 feet away. Sitting at a desk for long periods of time can cause tight muscles and long-time compromise for pain in your back and neck. It's crucial to remember to take stretching breaks every 30 minutes to relieve some tension and avoid pain overtime. Below are some stretches you can follow. Alongside with stretching, take a few minutes to go on a short walk to get your body moving and reduce eyestrain from starring at a computer for a long time.
Resistance training, also known as strength training, is a form of exercise that improves muscular strength and endurance. During a resistance training workout, you move your limbs against resistance provided by your body weight, gravity, bands, weighted bars or dumbbells. Resistance training is recommended to be exercised 2 times in a week. Exercises should be individualized depending on the individual's knowledge on how to do specific exercises. Kinesiologists specialize in designing exercise programs for patients that need help overcoming chronic injuries and pain.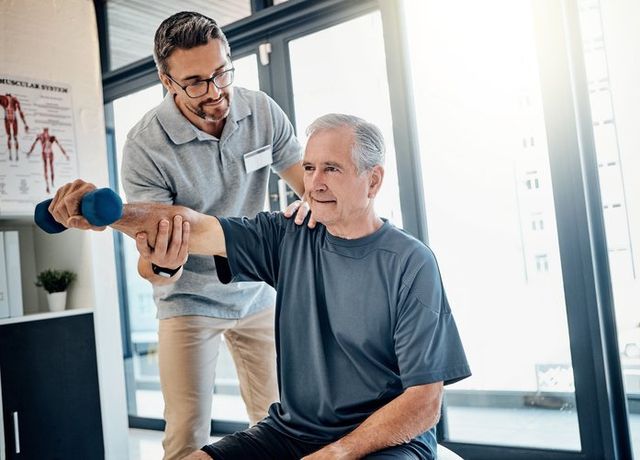 Types of Resistance Training:
Calisthenics – Consists of a variety of movements that exercise large muscle groups, including push ups, sit ups, and running

Weights – Strength training tools such as free weights, machines, kettle-bells, cables/pulleys
Benefits of Resistance Training:
Resistance training can increase tensile strength of connective tissues – helping to strengthen tendons, muscle, and ligaments. It allows tissue to generate more tension and which makes them more resistant to injury. Strength exercises can contribute to optimal performance in daily activities, as it improves posture, encourages weight loss and maintenance, and lowers injury risk. Strength training also reduces the need to do more cardiovascular activities because it helps control blood sugar.
This type of training can also be extremely beneficial for older adults because it improves mobility and functional independence. Implementing resistance training in your physical activity can help in the long run by delaying bone diseases such as osteoporosis – a condition where bones lose their mineral content/bone density and become more vulnerable to fracture. Bone density is improved when stress is put on bones by doing resistance exercises. 
Guidelines for Resistance Training:
Do exercises that involve all major muscle groups (chest, shoulders, back, hips, abdomen, arms)

To improve good posture, select exercises that strengthen the trunk (abdomen)

Never lift heavy weights alone (have a spotter)

Warm up prior to high intensity exercises

Use proper lifting techniques to prevent musculoskeletal injuries

Exercise larger muscle groups before smaller ones (Ex. exercise legs before arms)
Patellar tendonitis, also known as jumper's knee, is the inflammation of the patellar tendon, which connects your knee cap to your shin bone. This condition can weaken the connective tissue and can possibly lead to tears in your tendon. Possible causes of the inflammation of the patellar tendon include practicing repetitive movements, overusing the tendon or adding too much pressure to your tendon repeatedly.
Knee pain is one of the most common symptoms of patellar tendonitis. If you feel pain especially when jumping, running, stretching and bending your leg; tenderness or swelling at the lower part of your knee cap, it is likely that your patellar tendon is inflame. Some symptoms resemble other medical condition, X-ray is one of the best ways to diagnose patellar tendonitis.
Once diagnosed for patellar tendonitis, it is important to stop the activities that caused the problem until fully recovered. Other treatments such as applying ice packs to your knees helps reduce inflammation, and shockwave therapy speeds up the healing process.
We can avoid and manage musculoskeletal injuries by being physically active. For instance, we can participate in  high- and low-impact activities.
High-impact activities are more intense and use more energy. They can strengthen our heart and lungs, help burn more calories, improve bone density, and improve our stability, balance, and coordination. However, there is a greater chance of getting the ankle, knee, hip, or back injured if an individual is not prepared. Therefore, it is important to warm up first before beginning any high-impact exercises. Examples of high-impact exercises include jumping rope, plyometric exercises, running, and jogging.
Low-impact exercises are less intense and less jarring on our body and joints. Beginners, people who have arthritis or osteoporosis, older adults, and people with bone, joint, or connective tissue injuries should do low-impact exercises. For example, working out on an elliptical machine, walking, cycling, swimming, and dancing.
An ankle sprain occurs when the ligaments that help hold the ankle bones together are forced beyond their normal range of motion.  The ligaments on the outer side of the ankle are usually stretched, teared partially, or teared completely. Rolling, twisting, or turning your ankle in an awkward way can lead to an ankle sprain. It can be caused from walking or exercising on an uneven surface or from falling. Someone who has injured their ankle before or wears improper shoes increases their chance of a sprained ankle. It is also a very common sports injury, especially in soccer, tennis, and basketball because these sports involve jumping, cutting action, or twisting of the foot.
Depending on how severe the sprain is, the signs and symptoms include tenderness when the ankle is palpated, pain when weight is applied on the affected foot, swelling, bruising, limited range of motion, ankle instability, or popping sound heard at the time of injury.
Rest, Ice, Compression, and Elevation (R.I.C.E.) can be done to treat the sprained ankle for the first 2-3 days. Depending on the severity, sports tape or an ankle support brace can be used for stabilizing the ankle. In order to avoid an ankle sprain, one should warm up before exercising or playing sports, work on muscle strength and flexibility, and perform balancing exercises.
As we get older our muscles become stiffer and we would start to notice our flexibility declining. The muscles will decrease in length if we don't stretch our muscles. Shortened muscles could increase our risk for falling and one might find it difficult to perform activities that require flexibility, such as going up the stairs. In addition, using a shortened muscle for activity could also lead to muscle damage, strains, and joint pain.
Stretching can help us become more flexible and it is the key to preventing injury and disability. It can increase our range of motion and reduce joint and back pain. Moreover, it can decrease the risk of falling by improving our balance and can also improve our posture. Lastly, it can reduce the risk for muscle and joint injury.
It is important to warm up before we stretch the muscles. We can warm up by doing 2 to 5 minutes of dynamic stretching, such as lifting our knees and rolling our shoulders. This type of stretch involves moving a joint repeatedly through its available range of motion and does not involve holding a position. Static stretches can then be held for 10 to 30 seconds in order to regain flexibility and should be performed after a workout.
Ankle sprains are a common injury that can lead to severe pain and weakness. We can work on various rehabilitation exercises to help our ankle heal and prevent future injuries.
After the injury has occurred, it is important to perform partial weight bearing to prevent muscle atrophy. When you are able to walk again without limping, you can work on full weight bearing. You should begin with range of motion exercises, such as plantar flexion, dorsiflexion, inversion, and eversion. You should not feel pain when you perform these ankle movements. You can then practice writing the alphabet with your toe and work on towel assisted stretches with the same ankle movements.
Next, you can do strengthening exercises, such as performing the ankle movements against the wall or using a rubber tubing looped around your feet for resistance. After, you can move on to balance exercises on a wobble board by doing a double leg stand with eyes opened and then closed. Then, standing on your injured foot with eyes opened and then closed. 
By following these rehabilitation steps, you can help strengthen the ankle and prevent an injury from occurring again.
December is approaching and snowy weathers could be coming your way! With every snowfall, comes with shoveling and keeping your street free from snow turning into ice and avoiding others to fall on the street. If you are helping others preventing injuries, shouldn't you be taking care of yourself as well?
Shoveling can put a lot of strain on your back muscles so you may need to take caution of how much stress you are actually applying to these muscles. Here are 4 tips you can follow to reduce your chances of injuring your lower back.
Warm up your muscles first. Try to do some stretches  as warming up your muscles can be less susceptible to injury.
The method you use to shovel. Bending at the knees and hips and using your leg muscles instead of your back, it can relieve stress off your back muscles and reduces risks of straining them.
If you are already experiencing low back pain, avoid the job. Try and see if it's possible to find another volunteer, who doesn't have back pain, to shovel the snow.
Use a different shovel. Try a shovel with a curved handle which provides you with an upright stance with adjustable length.
Try and experiment with these tips and your back muscles will definitely thank you!
As leaves are falling and rainy weathers are coming to Vancouver, these factors can become a hazard and lead to slipping and falling. Here are tips on how to prevent or reduce your chances of falling this autumn and winter!
First of all, if you wear reading glasses frequently, make sure they are off when you are walking down the stairs or along the slippery street. The shoes you are wearing are important since some footwear are more prone to falling. If heels are not required for your work attire, then try to avoid wearing them as much as possible especially during wet and rainy weathers. Physical activity in general is important as it keeps your muscle moving and maintaining strength which is important for reducing the chances of falling since your muscles can provide more support. If you are at home, try your best to avoid leaving items on the ground and making sure the floor is dry to prevent slipping and injuring yourself. When possible, watch out for assertive devices such as rails on the stairs, or carry a flashlight to help reduce the risks of slipping while travelling.
There are many other tips to follow other than the ones listed above but the main concept to remember is to stay safe and be careful.