Author: Priscilla Wan
Feeling anxious? It isn't always a wonderful sensation to be feeling. Although anxiety is condition that affects mental health, it should still be cautiously looked over because it could lead to depression, creating a higher chance for committing suicide. These steps can be avoided if we take more interest in others who may seem to be showing these qualities.
One way to ease stress is to write down your worries as it may relieve some "thoughts" from your mind, reducing the amount of worrying that occurs in your brain. This does not benefit from everyone who have anxiety as this is only found from studies that writing thoughts down can help. There has also been other studies regarding probiotics to help with depression and anxiety, however the conclusions are still unknown but there is no harm in taking them as they are beneficial for your gastrointestinal system.
Trying to help someone with their anxiety or depression requires more effort and time than you would expect, as there is something referred as "postpartum depression". There could always be moments where the person can go back to their anxious lifestyle even if they had been treated for their anxiety. If you knew someone who has anxiety or depression, please show care for them as it is a long process for them to handle and knowing others in their life show that they care, can really help someone overcome depression and anxiety.
December is approaching and snowy weathers could be coming your way! With every snowfall, comes with shoveling and keeping your street free from snow turning into ice and avoiding others to fall on the street. If you are helping others preventing injuries, shouldn't you be taking care of yourself as well?
Shoveling can put a lot of strain on your back muscles so you may need to take caution of how much stress you are actually applying to these muscles. Here are 4 tips you can follow to reduce your chances of injuring your lower back.
Warm up your muscles first. Try to do some stretches  as warming up your muscles can be less susceptible to injury.
The method you use to shovel. Bending at the knees and hips and using your leg muscles instead of your back, it can relieve stress off your back muscles and reduces risks of straining them.
If you are already experiencing low back pain, avoid the job. Try and see if it's possible to find another volunteer, who doesn't have back pain, to shovel the snow.
Use a different shovel. Try a shovel with a curved handle which provides you with an upright stance with adjustable length.
Try and experiment with these tips and your back muscles will definitely thank you!
High blood pressure is a condition that can be common, especially in the older generation however the symptoms of this condition can be quite asymptomatic so you may not know if you have high blood pressure until you have a visit with your general physician.
For an individual to be diagnosed with high blood pressure, their readings should be between 130/80 to 139/89 for stage 1 high blood pressure. For stage 2 high blood pressure, the systolic and diastolic readings would be over 140/90. However, this condition is not completely irreversible. If you can manage and make changes to your diet and lifestyle then this condition can be controlled and you can still maintain a healthy lifestyle and continue working and playing but with some caution.
As many individuals do not know how high their blood pressure is currently, it is always safe to do regular checkups in order to prevent having high blood pressure and continue living an optimal lifestyle daily!
As leaves are falling and rainy weathers are coming to Vancouver, these factors can become a hazard and lead to slipping and falling. Here are tips on how to prevent or reduce your chances of falling this autumn and winter!
First of all, if you wear reading glasses frequently, make sure they are off when you are walking down the stairs or along the slippery street. The shoes you are wearing are important since some footwear are more prone to falling. If heels are not required for your work attire, then try to avoid wearing them as much as possible especially during wet and rainy weathers. Physical activity in general is important as it keeps your muscle moving and maintaining strength which is important for reducing the chances of falling since your muscles can provide more support. If you are at home, try your best to avoid leaving items on the ground and making sure the floor is dry to prevent slipping and injuring yourself. When possible, watch out for assertive devices such as rails on the stairs, or carry a flashlight to help reduce the risks of slipping while travelling.
There are many other tips to follow other than the ones listed above but the main concept to remember is to stay safe and be careful.
Do you wake up often feeling low back pain? The solution could be the way you sleep at night. What could you do to help prevent that? Continue reading for some tips to help reduce your chances of having low back pain when you wake up in the morning.
The way you sleep can affect how stiff your muscles can be. If you are a side sleeper, you can try slipping a pillow between your legs to help align the spine a bit better. If you are a back sleeper, if possible, try to slip a pillow under your knee to maintain the neutral spine curvature. If you sleep on your stomach, you can put a pillow between the bed and your abdominal to help level out the stress places on your neck.
Picking a mattress could be a solution to your problem. Your mattress should provide some support for your back or else it might be time to switch for another one. Choosing the correct pillow can help reduce your likelihood of experiencing back pain. An ideal pillow should be able to support your head, neck, and shoulders to prevent so much pressure building up on them.
If you are still unsure, you can drop in and see a chiropractor to get treatment for your low back pain and get more tips on a better sleep lifestyle!
Yoga has been known to help with your stress, however did you know it is beneficial for slowing down inflammation?
By practicing yoga, it has been shown that it increases levels of leptin and adiponectin. These two can help alleviate inflammation occurring in your body.  A study has been done and researches discovered that 12 weeks of yoga could slow down cellular aging. They also found that the individuals had lower levels of inflammation and cortisol and higher levels of brain derived neurotrophic factor, which is a protein that helps with brain development.
Many of us should try out yoga once in a while as there are benefits in doing so. It does not require a lot of time so it can be input into your day in the morning or before you head to bed. One example you can try at home is alternate nose breathing.
Overall, there is no harm in experiencing yoga and slowly incorporating this into your daily life as many of us tend to get stressed easily and this can become a go-to stress reliever!
Do you sometimes experience pain or stiffness in your knees? Have you heard of knee osteoarthritis before? If so, how will you know the pain in your knee is due to this condition or is related to something else?
As mentioned in a previous blog, osteoarthritis is a tear and wear occurring in the cartilage. Knee osteoarthritis is defined as a tear or wear that is located in the cartilage and/or joints in the knee. Some symptoms you may experience if you have knee osteoarthritis are pain, stiffness, swelling, and possibly a grinding sensation during knee movement.  Presently, there is no cure for osteoarthritis but there are methods you can do to reduce pain or stiffness.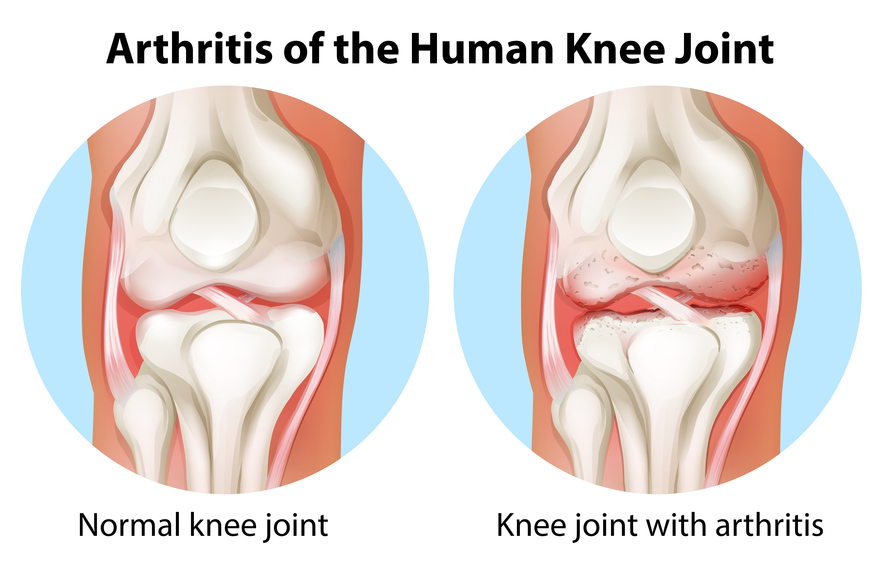 There are 5 stages for knee osteoarthritis:
Stage 0: This stage is the "normal" condition where the knee is not inflamed and neither pain or impairment is occurring
Stage 1: There is minor bone spur growth occurring but usually discomfort or pain is not felt during this stage
Stage 2: Bone spur is still happening and is considered as a mild stage of this condition but cartilage is still considered "healthy" as this stage
Stage 3: This stage is classified as the "moderate" stage/condition. The space between the two bones have been decreased and individuals will likely experience stiffness, pain, and/or discomfort. Swelling can also occur at this stage
Stage 4: During this stage, a lot of pain and discomfort can be felt since the cartilage between the two bones is greatly reduced and is practically almost gone
If you believe you may be experiencing knee osteoarthritis, come see a practitioner here or to your general physician to see what can be done to reduce your pain!
Experiencing a terrible neck pain sensation? You may be experiencing whiplash, especially if you were recently involved in a motor vehicle accident.
Whiplash is caused by high force of forward and backward movement, which is quite common in drivers who have been in a car accident. This condition does not only occur from car accidents, but it is common in contact sports such as football and any form of physical abuse and/or assault.
How do you know if you have a whiplash? Some symptoms of a whiplash include stiffness, headaches, dizziness and more. Normally, whiplash injuries may not mean much but sometimes there could be other problems associated with your neck pain and it is always advised to have your whiplash pain checked out with your general physician or chiropractor.
Arthritis is a common medical term many of us have heard about. There is also a lot of us who has experienced or is at risk for it. However, did you know there are 2 types of Arthritis?
The first type is osteoarthritis. This is defined when there are tears and wears of the cartilage at the end of the bones. As the cartilage is wearing out, the joints are rubbing against each other more frequently. This type is more commonly present in individuals who are over the age of 65. Factors such as obesity and overuse of the cartilage area can increase your risk of developing osteoarthritis. The symptoms associated with osteoarthritis are morning stiffness, pain which is decreased with movement, swelling, and any cracking and/or clicking sounds occurring in the joint area.
The second type is called rheumatoid arthritis. This is an autoimmune disorder where it identifies normal functioning joints as abnormal therefore resulting in inflammation and pain. If inflammation isn't taken care of, it can cause further damage to your cartilage and joints. Rheumatoid arthritis is commonly found in females who are 30-60 years of age. Symptoms associated with rheumatoid arthritis are similar to osteoarthritis but the stiffness and pain does not improve with movement.
If you have arthritis, what should you be doing? You can always try some stretches to help relieve arthritis pain. Always consider warming up before your stretches to prevent more pain from developing and try to do stretches during the least painful time of the day. If you move from time to time, it can actually relieve some pain and stiffness as well as using labor-saving devices and adaptive aids.
Just because you are experiencing arthritis, it doesn't mean that you are limited to physical activity and exercise. Some exercises can help with rheumatoid arthritis. Consider putting aerobic conditioning, resistance training, stretching and flexibility exercises, and balance exercises into your active lifestyle, which all of these can help ease rheumatoid arthritis.
Low back pain can affect how your performance is, whether you are at work or at school. Most of us like to resort to pain killers to relieve our discomfort or pain but should we actually take medication to help with our back pain?
NSAIDs can be very harmful and lead to other health problems such as ulcers, stroke, and heart attacks. Studies suggest that medications help minimally in relieving pain and cause a lot of harm instead. 
What should you do when you are experiencing low back pain?
If the back pain isn't linked to anything dangerous, then let your back take a rest for a day or two with minimal stretching and exercising. If needed, physical therapy can be applied as well after a day of resting. However, if the back pain worsens or does not improve, it is always safer to contact a practitioner and figure out what could be the cause of the low back pain.
With a new case of low back pain, having rest and applying heat is important for the first few days. As the pain continues to linger, you can try a massage, acupuncture or spinal manipulation. If the pain continues, you can mention to your general practitioner about the issue and they could suggest a MRI to eliminate any serious issues.
Every individual experience low back pain at a different level so if you feel that you cannot handle the pain, it is best to see your local chiropractor or practitioner for more help.